Custom Imprinted Holographic Overlay
Product Overview
Custom imprinted overlays offer more security. Your custom text or logo is imprinted with transparent holographic foil. Custom imprints must be unique. For added security, NovaVision maintains an imprint registry to assure your unique image is only available to your organization.
Since a foil hot stamping process is used, your graphics may be limited in detail. Generally, we recommend text using arial font at a minimum 12 point size. Smaller text or intricate graphics may be incomplete or fill in. We will recommend changes as needed to make an acceptable product.
For more intricate hologram designs, we recommend our embossed hologram overlays, which are more expensive.
This product is available in "peel & stick" labels for manual application to the ID badge.
The overlay is constructed in two layers: a base polyester film which is 2 mils thick; after imprinting the custom text/logo, the imprint is laminated with an additional layer of 1 mil thick polyester film for added durability. Total thickness is 4 mils (.004 in.).
Overlays are also available with an optional tamper evident feature. After applying to the ID card, when removed, the background color of the overlay will reveal a hidden 'dots' pattern to indicate tampering. Add 20% to the total price for the tamper evident feature.
If NovaVision is requested to produce a custom holographic overlay, we require proof to substantiate that you are authorized to purchase that product. We independently verify your contact information and legitimacy.
Warning to Counterfeiters
If you are not authorized to purchase the product, your contact information may be provided to law enforcement authorities without further notice. This includes any holographic pouch that is identical or similar to any existing State Driver's License or any other government issued identication. NovaVision cooperates with all local, state, federal and international law enforcement agencies to catch and prosecute fraudulent purchases and counterfeiting.
Counterfeiting is illegal and is defined as any attempt to copy an original with the intent to defraud. It is illegal to purchase a fake identification product, an unauthorized custom hologram, or any counterfeit item which uses a copyrighted brand name or logo.
Custom Imprinted Holographic Overlays for ID Badges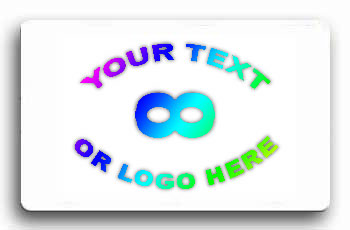 Product Specifications
Unit Price
$0.35 Per Overlay
Size
2 in x 3.25 in
Thickness
4 mil (0.004 in)
Minimum Order Quantity
1,000 Overlays
Service
2-3 Weeks
Pricing Formula:
Initial Order: $700 Setup Fee + $125 Plate Fee + $35 Artwork Fee + $0.35 Per Overlay
Re-Order: $700 Setup Fee + $0.35 Per Overlay
Pricing Information For Initial Order (Not Tamper Evident) *
Qty
Artwork/Plate
Setup/Order
Overlays
Total
Avg. Price/Overlay
1,000
$160
$700
$350
$1,210
$1.21
2,000
$160
$700
$700
$1,560
$0.78
4,000
$160
$700
$1,400
$2,260
$0.565
Pricing Information For Typical Reorders (Not Tamper Evident) *
Qty
Artwork/Plate
Setup/Order
Overlays
Total
Avg. Price/Overlay
1,000
N/A
$700
$350
$1,050
$1.05
2,000
N/A
$700
$700
$1,400
$0.70
4,000
N/A
$700
$1,400
$2,100
$0.525
* For additional tamper evident feature add 20% to total order amount.
Can't Find What You're Looking For? Try our Application Search
For Questions and Ordering Information, Please Contact: