California Clean Idle Labels
Product Overview
Effective in 2008, the California Air Resources Board (CARB) requires heavy-duty diesel engines to have added controls or auxiliary equipment to reduce emissions during idling. Diesel engines or auxiliary equipment which comply with this regulation are required to display a holographic certification label prominently mounted on the vehicle.
Clean Idle Certification Labels for Highway Vehicles
CARB's specifications for the "CERTIFIED CLEAN IDLE" or "VERIFIED CLEAN APS" certification labels include:
Custom holographic background
Standardized ink imprint
"VOID" tamper evident construction
Unique custom imprint and serial number
NovaVision offers customized certification decals which meet the CARB specifications.
These labels are only sold to original equipment manufacturers (OEM), who must include the labels with their submission packet to California authorities to secure final approval for their equipment.
NovaVision is ISO certified (ISO 9001:2008).
NovaVision's ISO 9001:2015 Certificate of Registration.
Idling Policy Stickers for Off Road Vehicles
The regulation issued by California Air Resources Board (CARB) also contains a limit on unnecesary idling for off-road diesel vehicles. Although not required by the regulation, CARB encourages using a notification label to be affixed to the vehicle to assure that vehicle operators are reminded of the idling policy while in the field.
These stickers are sold to any and all fleet owners.
The regulation requires fleets that meet the medium or large fleet categories to create a written idling policy and make the policy available to vehicle operators by March 1, 2009.
NovaVision offers the idling policy stickers (text and layout as recommended by CARB) to fleet owners.
Our stickers are designed for an intended service life of 10 years. They are constructed of durable polyester film with a premium outdoor grade adhesive. Black text is sunfast and laminated for maximum durability.
Recommendations to Maximize Decal Life
To achieve the intended design life (10 years) for our California Clean Idle decals, please follow these recommendations:
DO NOT REMOVE DECAL: Attempts to reposition or remove the decal will self-destruct the decal revealing the hidden word VOID.
AVOID HIGH TEMPERATURES: Exposure to temperatures over 170F can cause the overlamination to shrink and peel away from the base decal. The overlamination protects the inks and hologram from weathering.

PRESSURE WASHING: Improper techniques during pressure washing can expose the decal to extreme conditions which can severely -- and immediately -- damage the decal. Typical damage from improper techniques include peeling of the overlamination, activating the VOID feature, damaging the hologram image, tearing the decal film into pieces and/or delaminating all or a portion of the decal from the vehicle.

The safest option is to hand-wash the decal (and immediate area) and pressure wash the balance of the vehicle.

However, if pressure washing the decal is required, we recommend all of the following conditions and techniques:

Distance from pressure wand tip to the decal: 12 inches MINIMUM
Water Pressure Setting: 1500 psi MAXIMUM
Water Temperature (thermostat setting): 160°F MAXIMUM
Pressure Wand Movement: Use a Sweeping Motion (do not dwell in one spot)
Elapsed time to pressure wash the decal (assumes a weekly washing): 2 seconds MAXIMUM
Intended Use of Holograms
Our holograms are designed, tested, and intended for anti-counterfeiting, anti-tampering and promotional applications.
Our holographic products do NOT provide any documented health or medical benefits such as improved balance, sleep, pain-relief, weight loss, smoking cessation, etc.
Our holographic products do NOT provide any documented benefits to improve gas mileage, energy efficiency, cell phone reception, etc.
Our holographic products cannot be programmed to resonate at specific frequencies.
In our opinion, claims of medical benefits or improved machine performance are questionable and scientifically unsupported. Consumers should request an independent study (with blind testing) to verify any such claims and benefits.
We are not aware of any independent studies which validate such claims and benefits. Therefore, we will not intentionally produce holograms for these applications.
California Clean Idle Certification Labels (only sold to OEM)
The California Clean Idle Truck Decals are only sold to Original Equipment Manufacturers (OEM). We do not sell new or replacement decals to truck owners. If you are a truck owner and need a replacement decal, please contact you local truck dealership parts department or the manufacturer of the truck engine.

| | |
| --- | --- |
| Size | 6.03 inch W x 4.03 inch H |
| Hologram | California / Clean Skies / Clean Idle |
| OEM Imprint | Black ink |
| Serial Number / Bar Code | Black Ink |
| Minimum Order | 1000 labels |
| Pricing | Please Call (sold to OEMs only) |
| Ready to Ship | 2 to 4 weeks |
California Idling Policy Stickers, L-CIP28-10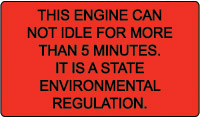 | | |
| --- | --- |
| Code | L-CIP28-10 |
| Size | 2.75 in x 1.375 in |
| Colors | Red Background with Black Text |
| Qty Size | Bundles of 10 Stickers |
| Ready to Ship | 1 day |
| Qty (Seals) | Qty (Bundles) | $/Seal | $/Bundle | Total |
| --- | --- | --- | --- | --- |
| 10 | 1 | $2.50 | $25 | $25 |
| 50 | 5 | $1.00 | $10 | $50 |
| 100 | 10 | $0.75 | $7.50 | $75 |
| 500 | 50 | Call | Call | Call |
Can't Find What You're Looking For? Try our Application Search
For Questions and Ordering Information, Please Contact: