Election Security Seals
The products on this page are designed for election applications. For added security, products marked with "ES" or "ELECTION SECURITY" are only sold to state, county or city election boards who control and administer elections and voter registration. These products are not available to the general public.
Whether your security needs are low, medium or high, we offer a wide variety of products to meet or improve your election security – and all at affordable prices. This includes physical access security for polling sites, tabulators, ballot boxes (manual or electronic), storage boxes, documents, servers and routers.
Our products include tamper evident labels, security tape, and a variety of mechanical seals. To help you choose the most appropriate item, each product section lists typical applications and relevant product features.
For improved security, we recommend using the ELECTION SECURITY products below. For added security, some products are offered with additional customization, which can include the name of your state, county or city with custom serial numbers.
In addition to our products customized for election security, each section below also includes a link to the hundreds of other products we offer so you can also choose the most appropriate product for your desired security and budget. The linked products are also sold to the general public.
Increased Security
Prior to accepting the order, we check to confirm that our ELECTION SECURITY products are only shipped to validated government organizations who are authorized to administer and control elections.
All of our security labels, tape and mechanical seals have a unique serial number. For increased security, your security protocol should include recording the serial number and confirming the serial number periodically and when the security seal is replaced.
For security labels and mechanical seals (excludes tape), we track and record the serial numbers shipped to each customer location. If you find an "unauthorized" serial number, give us a call to track down the original source.
Most of our security labels and tape include unique anti-counterfeiting features, such as fluorescing additives, microtext, holograms, etc – see each product feature page for more details.
A customized product offers more security. As an option, most of our products can be customized. We maintain a "custom product registry" to assure no other company purchases the same product with your customization.
Pull Tight Adjustable Plastic Seal with Serial Number, Blue or Red, Usable Length: 5 in, Bag of 100, MS-A10

Light duty plastic seals commonly used for small hasp openings. These plastic seals include a tear-off tab for easy removal without any tools.
Consists of high-density polyethylene for greater durability in extreme weather.
Clean Break Design ensures that individual seals detach from the strip without plastic waste.


CODE: MS-A10B (Blue)

CODE: MS-A10R (Red)
Pricing Information
Qty (Seals)
Configuration
$/Seal
Total
100
1 Bag
$0.29
$29
200
2 Bags
$0.26
$52
500
5 Bags
$0.24
$120
1,000
1 Case
$0.19
$190
5,000
5 Cases
$0.17
$850
10,000
10 Cases
Call
Call
Product Code

MS-A10B (Blue)
MS-A10R (Red)

Color
Blue or Red
Usable Strap Length
5 inches
Overall Size
8 inches
Minimum Hasp Opening
0.11 inch diameter
Stock Imprint
Unique serial numbers, "SEALED"
Imprint Color
White
Break Strength
25 lbs; no cutting tool required for removal
Material
Polypropylene
Seal Configuration
10 seals/mat; 100 seals/bag; 1,000 seals/case
Installation & Removal Instructions
Installation Instructions
Thread the strap through the side of the lock mechanism

Push/pull the strap through the locking mechanism

For maximum security, cut the tapered end of the strap so the seal cannot be reused (this prevents re-use of the seal in the unlikely event the seal is successfully tampered to remove it)

For hasps, do not over tighten
Removal Instructions
Use tear off tab, or use a scissors to cut the strap.
Recycling Instructions
The locking mechanism is all plastic and can be recycled.
Plastic Padlock Seals With Metallic Shackle, 0.9 in x 3.1 in, bundle of 50, MS-L1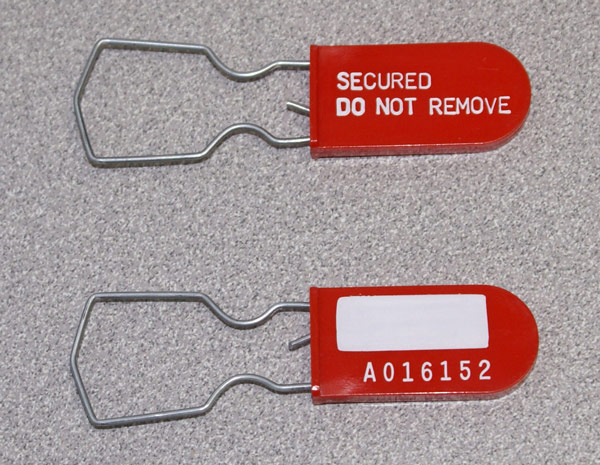 Ready to Ship: Same Day (Order by 2pm EST)
Pricing Information
Qty (Seals)
$/Seal
Total
50
$0.50
$25
200
$0.40
$80
500
$0.25
$125
1,000
$0.17
$170
2,000
$0.16
$320
5,000
$0.15
$750
10,000
Call
Call
Additional Product Photos
Plastic Padlock Seals, Blue, 0.9 in x 3.1 in, Bundle of 50, MS-L1B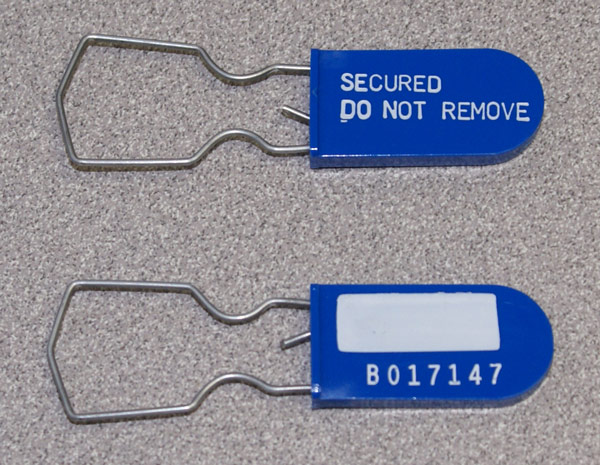 Ready to Ship: Same Day (Order by 2pm EST)
Pricing Information
Qty (Seals)
$/Seal
Total
50
$0.50
$25
200
$0.40
$80
500
$0.25
$125
1,000
$0.17
$170
2,000
$0.16
$320
5,000
$0.15
$750
10,000
Call
Call
Additional Product Photos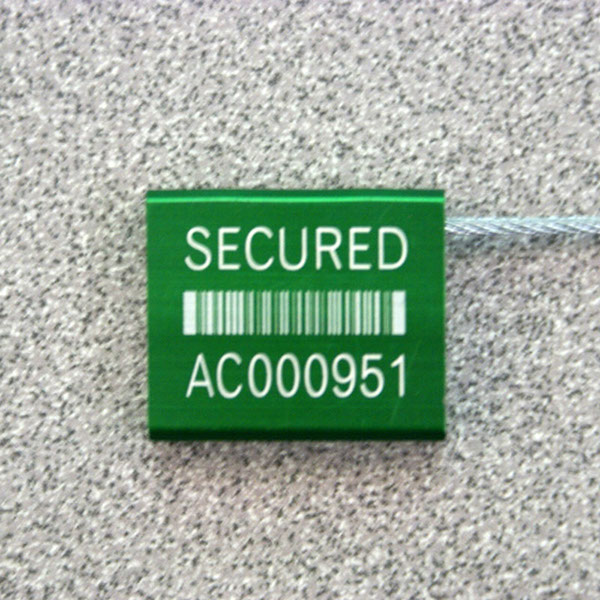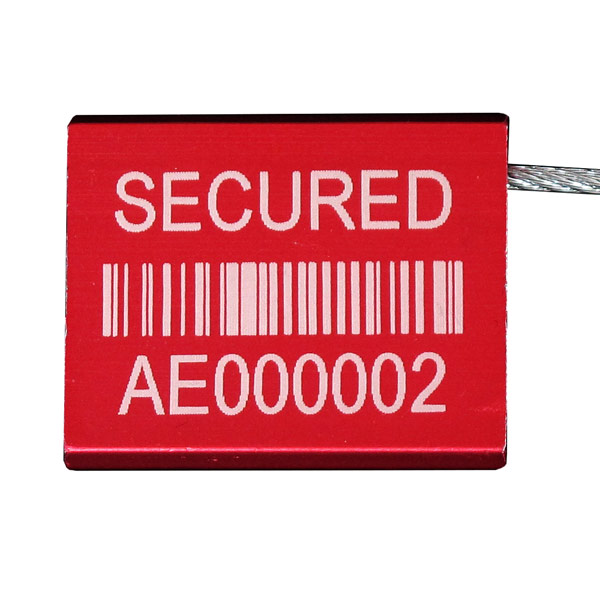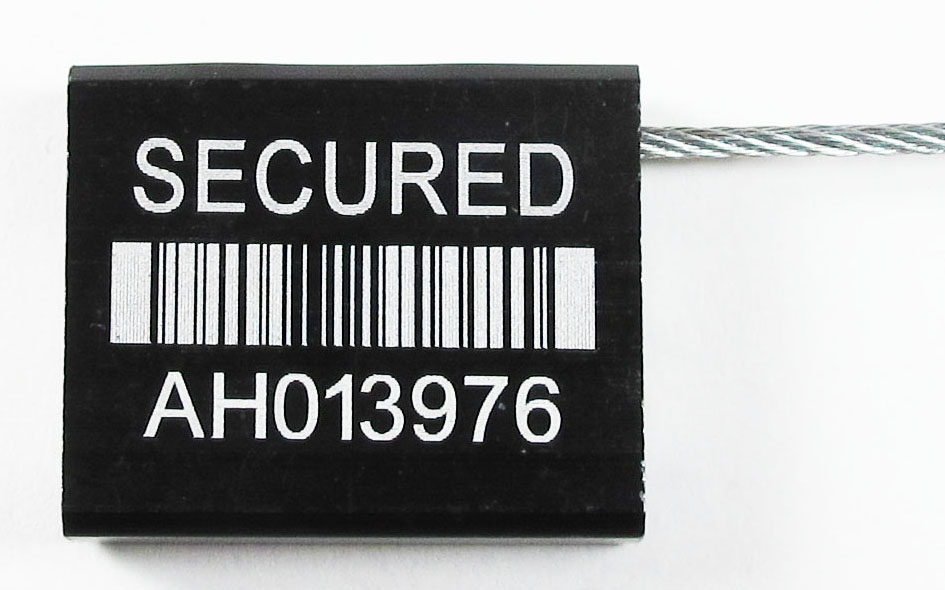 Specifications
Cable Type
Adjustable Length, Galvanized Steel, Non-Preformed
Locking Body
Aluminum, Green, Red
Stock Imprint

"SECURED" Text
Unique Serial Number
Bar Code

Stock Imprint Color
White
Packaging
Bags of 10 seals
Product Code
$/Seal
10
50
100
200
500
1,000
Size: 1.5 mm x 12 inch
Code: MS-C1.5-12G

(Green)


Code: MS-C1.5-12R

(Red)


Code: MS-C1.5-12K (Black)

$1.35
$1.27
$1.17
$0.96
$0.87
Call
Size: 1.5 mm x 36 inch
Code: MS-C1.5-36G

(Green)


Code: MS-C1.5-36R

(Red)


Code: MS-C1.5-36K (Black)

$1.70
$1.59
$1.46
$1.42
$1.34
Call
Premium Tamper Evident Tape, Red, Serial Numbered, PVT2R-217D
Premium Tamper Evident Tape, Red, 2 in x 164 ft, Perforated (2 in x 6 in), EVT2R-235AP-164
Custom Imprinted Non Residue Security Label, 4 x 1 in, Rectangle, HSG39-29-W


Design Online Red: HSG39-29RE-W
Design Online Blue: HSG39-29BL-W
Label Size: 4 in x 1 in
Pricing Formula: $165/Order + $0.22/Label
Pricing Information
100
1,000
5,000
10,000
$187
$385
$1,265
Call
Non Residue Security Label, 1.0 in x 4.0 in, XSG52-A05-513BSN (BLUE)

Before

After
Label Size: 1.0 in x 4.0 in
ULTRA-GUARD -- UG6, 2.0 x .75 in, Rectangle, XUG6-K222-60SN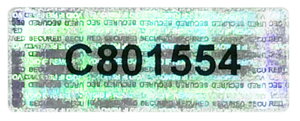 Our high-performance Ultra-Guard hologram labels are designed and intended to protect access hatches on election machines where it is necessary to meet the security aspects (level 4) of the Federal Information Processing Standards (FIPS140-1, FIPS140-2, etc.). When removed, the label leaves an adhesive residue on the affixed surface. Our FIPS labels are available in stock and custom configurations. To see the full line of FIPS labels, click on this link:
https://www.novavisioninc.com/pages/prd_high_security_labels_FIPS.html
The FIPS labels are a premium product. If a FIPS-level security label is NOT required, we recommend using our other security labels, which will provide adequate security at a more affordable price.

Ships next day (must order by 2pm EST)
Custom Imprinted Labels (2.0 x 0.75 inch)
Can't Find What You're Looking For? Try our Application Search
For Questions and Ordering Information, Please Contact: