Frangible Paper Seals
Product Overview
Paper security seals are typically lower cost and are often used on higher volume applications including retail products, medications, confidential documents, etc.
Frangible paper tears easily when removed. After application, the paper seal can be removed, but it is designed to tear into multiple pieces or delaminate.
Frangible paper seals are available in stock and custom versions.
Unlike film security labels, paper is receptive to a wide variety of writing and marking methods, including pencil, ink pen, felt markers, stamping dyes, thermal transfer printers, etc.
Other typical applications include product cartons, medicine containers, envelopes, DVD/video tape containers, bottles, etc.
Constructed of typical paper, Integrity Seals are compatible with most writing and marking systems. The natural absorbent paper is less likely to smudge for marking dyes, felt tip pens, etc. However, since this paper absorbs moisture, these seals are only recommended for indoor applications.
The permanent adhesive typically requires 1 to 24 hours to cure enough to assure the frangibility feature of the paper. The integrity seal is ideal for products which will remain in a secure environment until the adhesive fully cures.
Our integrity seals include a perforated seam to enhance frangibility and security.
Our Integrity Seal also has a hidden anti-counterfeiting feature — there are fluorescing fibers embedded in the paper. The fibers are invisible in normal lighting, but can be seen when the paper is exposed to a UV black light.
The low cost and covert security feature is ideal for custom security on high-volume products.
Stock Integrity Seals Pricing Information
Ready To Ship: Same day if ordered by 2pm EST
| Qty (Labels) | $/Label |
| --- | --- |
| 1,000 | $0.05 |
| 5,000 | $0.045 |
Custom Integrity Seals Pricing Information
Custom Text, Logo, Serial Number
Ready To Ship: 1 Week (Optional RUSH Service Available)
| Qty (Labels) | $/Label |
| --- | --- |
| 1,000 | $0.125 |
| 5,000 | $0.065 |
| 10,000 | $0.058 |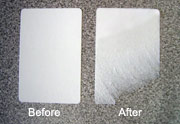 Constructed of synthetic paper, Safety Seals are compatible with permanent ink and felt tip markers. The synthetic paper is resistant to moisture and acceptable for limited outdoor exposure up to 90 days in most environments.
The permanent adhesive quickly bonds to most surfaces, so the frangible security feature is available quickly — usually less than one minute. When removed, the Safety Seal tears into pieces, and delaminates leaving the adhesive and bottom layer of paper on the affixed surface.
Safety Seals are also ideal for commercial applications to print seria numbers or bar codes on demand. The smooth surface is receptive to thermal transfer printing using a wax/resin ribbon.
Stock Safety Seals Pricing Information
Ready To Ship: Same day if ordered by 2pm EST
| Qty (Labels) | $/Label |
| --- | --- |
| 1,000 | $0.045 |
Custom Safety Seals Pricing Information
Custom Text, Logo, Serial Number
Ready To Ship: 1 Week (Optional RUSH Service Available)
| Qty (Labels) | $/Label |
| --- | --- |
| 1,000 | $0.055 |
Can't Find What You're Looking For? Try our Application Search
For Questions and Ordering Information, Please Contact: