Security Bags
Product Overview
Security bags and security envelopes are used to secure documents, personal effects, cash, or other valuables. After inserting the contents, the security bag/envelope is sealed. After sealing, if the closure is opened, it will show some form of tamper evidence (the bag will be torn, the word "VOID" or "OPENED" will be visible, a pattern of DOTS will be visible, etc.).
We offer transparent bags for viewing the contents, which is required in some applications. However, if you want to use a transparent product but conceal the contents, first place the contents in a opaque envelope or bag, then seal it in the security bag/envelope.
We also offer opaque security bags in a limited number of sizes. Stock and custom products available.
Typical applications include crime scene evidence, confidential documents, cash from retail and convenience stores, personal effects for hospital patients, dice and playing cards for casinos, valuables stored in a vault at a hotel, etc.
Security bags are one-time use and are disposed after the initial use. Custom products require 4 to 8 weeks lead time; minimum order quantities apply (varies by size of bag).

Secure documents, personal effects, cash, and other valuables
Drug Return Bags for Clinical Trials

Secure documents, personal effects, cash, and other valuables
Serial numbered with tear off receipt
Opaque bags prevent viewing of bag contents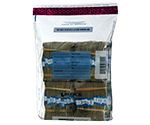 Secure cash, coins, checks, etc during cash transfers
Serial numbers and tear off receipts for tracking and documentation
Tamper evident closures for indicating when bags have been tampered with
Signature strips for ensuring accountability
Can't Find What You're Looking For? Try our Application Search
For Questions and Ordering Information, Please Contact: